This is a Sponsored post written by me on behalf of White Cloud . All opinions are 100% mine.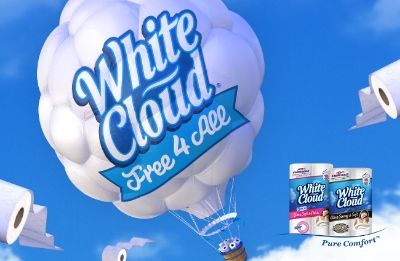 It's summertime….the kids are home…..and they are sure going through a lot of toilet paper!  What's a poor mom to do?  Well, listen up 'cause I am about to tell you!
White Cloud has just introduced 2 new bathroom tissues and they want all of you to be able to give them a try!  This new White Cloud Bathroom Tissue is a  2-ply Ultra Strong & Soft Bath Tissue and a 3-ply Ultra Soft & Thick Bath Tissue.
Oh, wait! You say you have never heard of White Cloud Bath Tissue?  Well, White Cloud is a premium brand that is sold exclusively at Walmart!  I buy it all the time because the quality is great and the price sure beats the competition!
White Cloud has introduced a new campaign called "Free 4 All" so that everyone can get the chance to try this bath tissue for yourself.  Here is how it works:
Head on over to Facebook and "like" White Cloud on Facebook for your opportunity to obtain a free 4-pack of White Cloud's new and improved premium 3-ply Ultra Soft & Thick Bath Tissue with the purchase of any White Cloud Bath Tissue when you use the coupon ($1.97 off) if you are willing to share the coupon on the social channel of your choice (Facebook, Twitter, or Pinterest).  If you don't want to share the coupon on social media, a $1 off coupon is available to fans that simply wish to print a coupon. Coupon on Facebook
Now here is the part that is really cool!  White Cloud's new 2-ply Ultra Strong & Soft (now stronger and softer, which means consumers will use less and this makes the roll last longer!)  and 3-ply Ultra Soft & Thick Bath Tissue (now softer and thicker and the new quilted pattern provides a premium look and feel) comes in a 16 roll pack but it costs the same as the regular price for 12-roll packs of Quilted Northern and Cottonelle. That means that you get four more rolls of bath tissue all for the same price other brands are charging for 12! If you use the "Free 4 All" coupon you can double your  number of extra rolls, giving you 8 extra rolls for a total of 20 for the price of 12!  Now that sounds like a great plan to me!
I read a report that said White Cloud Bath Tissue is only 25¢ for each 100 sheets, which makes it the cheapest 3-ply toilet paper around. For comparison, Quilted Northern Ultra Plush is virtually the same product, but costs 38¢ for 100 sheets–that's about 50% more and Charmin Ultra Soft costs 41¢ per 100 sheets, yet is only 2-ply. So, as you can see, White Cloud gets you the most bang for your buck!  Use your coupon and then let me know what you think about White Cloud Bath Tissue compared to Quilted Northern and Charmin.
White Cloud has other great products like facial tissue, paper towels and even laundry detergent!  Be sure to check out your local Walmart for some great buys on these products – great quality and much cheaper than the competition! Store Locator
With great products at cheaper prices, you won't have to fret so much when your kids and their friends use your toilet paper!  Extra rolls for free means you will have money left to buy some snacks for all those kids!
Join White Cloud on social media and be on the lookout for other new products and great coupons!
Follow White Cloud on Pinterest
Disclaimer: Limit One (1) Coupon Per Purchase. White Cloud® Bath Tissue is only available at Walmart stores. No facsimiles or reproductions. May not be sold or transferred. Must present coupon at time of purchase. Any other use constitutes fraud. Valid only in USA. Void where prohibited, taxed or restricted. Case value 1/100¢.
LEAVE ME A COMMENT BELOW AND LET ME KNOW IF YOU HAVE TRIED THIS NEW WHITE CLOUD BATH TISSUE – IF SO, WHAT DID YOU THINK?
Never miss a deal!! - Follow Me On Facebook, Pinterest and Twitter - Sign Up To Receive Our Daily Email
You can also join our Private Facebook Page here so that you are sure to NEVER miss another one of our deals!
This post may contain affiliate links