This is a Sponsored post written by me on behalf of White Cloud for SocialSpark. All opinions are 100% mine.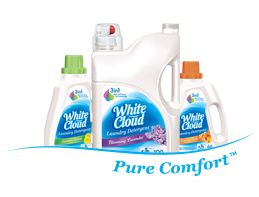 White Cloud makes laundry detergent?  I thought they made toilet paper, facial tissue and other paper products!!  That was my first thought when I spotted White Cloud Laundy Detergent at my local Walmart!  I opened the bottle to see what this detergent smelled like and I was pleasantly surprised!  There are three scents: Blooming Lavendar, Summer Breeze and Tropical Fiesta.  I finally decided on Blooming Lavendar.  I love the fresh lavendar scent that reminds me of my favorite bath gel and lotion that I use after a long stressful day at work.
Now, laundry is not one of my favorite things to do.  I do however, love to take fresh laundry out of the dryer and smell a fresh, clean fragrance and that is exactly what I got with White Cloud!
My laundry story actually begins with a Memorial Day picnic.  I spent the day with my family and we ate the traditional hotdogs, beans, coleslaw and chips.  Well, leave it to me to take a bite of my hotdog and get ketchup on the front of my shirt!  (you just can't take me anywhere!).  When we got home that evening, I decided to get some laundry done….heck, I had to go back to the work the next day!  I remembered reading about the 3-in-1 mico clean technology that helps White Cloud get out even the toughest stains, so I decided to give it a try.  I rubbed some on the ketchup stain and then put it in the laundry with the rest of my clothes which were being washed in the detergent also.  After the wash cycle, I took the clothes out of the washer and was amazed!  The stain was COMPLETELY gone!!  Not even a trace of it existed!! Affordable laundry detergent that smells great AND gets out stains?  I LOVE that!!
I found that White Cloud has a $2 off coupon on their Facebook page!  White Cloud Laundry Detergent is already priced right and now with the coupon, you can save even more!!  That makes this deal seeking mama really happy! (Disclaimer: Limit one coupon per purchase on product specified. No cash back if coupon value is higher than purchase price. Void if reproduced, transferred, used to purchase products for resale or where prohibited/regulated by law. Not valid on trial sizes. Consumer pays sales tax. Redeemable at participating retail stores. Valid only in the U.S.)
White Cloud comes in the 3 scents I mentioned before and can be purchased in 100 and 150 ounce bottles of liquid form and in a 156 ounce box of powder form.
Here is an awesme statistic: In less than six months of launching White Cloud's new Laundry Detergent, a leading consumer magazine has already named White Cloud Laundry Detergent as #1 in value and #6 in cleaning.  This doesn't surprise me!
Will you Dare to Compare?  Try new White Cloud Laundry Detergent and see for yourself what all the fuss is about!  If saving money, finding a great bargain, and having clean, fresh smelling laundry is at the top of your laundry list, then be sure to head to your local Walmart and try White Cloud for yourself! Store Locator
Follow White Cloud on Pinterest
Air Your Dirty Laundry:
What Is Your Favorite Laundry Detergent and Will You Be Giving White Cloud A Try?
Never miss a deal!! - Follow Me On Facebook, Pinterest and Twitter - Sign Up To Receive Our Daily Email
You can also join our Private Facebook Page here so that you are sure to NEVER miss another one of our deals!
This post may contain affiliate links