This is a Sponsored post written by me on behalf of eCards from American Greetings. All opinions are 100% mine.
I love receiving greeting cards and I love giving greeting cards.  Remembering birthdays and anniversarys is very important to me.  The problem is that sometimes life gets so busy and before I know it a friend or loved one has a birthday and it is too late for me to send a card.  That is why I love this new service from American Greetings!  It allows me to create a fun, personalized video ecard and send it right away! 
You can surprise and delight everyone you know with American Greetings new singing greetings that let you pick the lyrics! Just select a name and some funny or sentimental personalization and it'll make a custom song you can share via Facebook, email and more!
I just sent my hubby an anniversary ecard!  I chose the Slice of Paradise video ecard because we love the beach and anything tropical!  I was able to insert both of our names into the video and they were both mentioned a couple of times in the adorable little reggae song!  He really got a kick out of it and mentioned that it was perfect and matched us to a tee!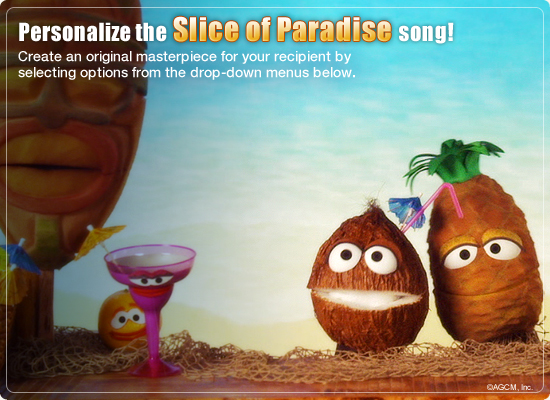 I am definitely going to be taking advantage of the membership offered by American Greetings to send all types of greeting cards!  No more sending cards late because I remembered at the last minute!
Membership Prices:
-$3.99 monthly for a monthly membership
-$19.99/year for a yearly membership
-$29.99 for a 2-year membership)
The video eCards are included in the membership, and they are also free with a 7-Day Free Trial Membership!
I love the fact that you connect instantly with the ones that matter most. For easy delivery, video eCards can be sent via email, direct to mobile or to Facebook.
And…if you need to send a gift, video ecards are a fun way to send a gift card! You can attach a gift card to any American Greetings eCard and send for a gift anyone would appreciate.
Now, what more could you ask for?  If sending cards and acknowledging birthdays, anniversarys, engagements, new babies, friendships, new jobs, new homes, April Fools Day……or anything else that you can think of, is important to you, then you will want to take advantage of all that this membership offers!
Be sure to check out the American Greetings website! Which video ecard would you choose to send your friends or family?
Make your American Greetings eCard now
like American Greetings on Facebook
follow American Greetings on Twitter
Never miss a deal!! - Follow Me On Facebook, Pinterest and Twitter - Sign Up To Receive Our Daily Email
You can also join our Private Facebook Page here so that you are sure to NEVER miss another one of our deals!
This post may contain affiliate links